Once Upon A Time In Hollywood (Original Soundtrack) 2xLP
Obal a ukázka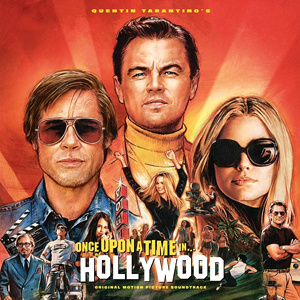 Informace o produktu
Autor

Quentin Tarantino presents VA - Deep Purple, Paul Revere, Neil Diamond etc.
Label

Columbia
Tracklist:

A1 Roy Head & The Traits Treat Her Right
A2 The Bob Seger System Ramblin' Gamblin' Man
A3 Humble Harve Boss Radio
A4 Deep Purple Hush
A5 Humble Harve Mug Root Beer Advertisement
A6 The Village Callers Hector
A7 Buchanan Brothers Son Of A Lovin' Man
A8 Chad & Jeremy Paxton Quigley's Had The Course
B1 Unknown Artist Tanya's Tanning Butter Advertisement
B2 Paul Revere & The Raiders Good Thing
B3 Paul Revere & The Raiders Hungry
B4 Box Tops Choo Choo Train
B5 Mitch Ryder And The Detroit Wheels Jenny Take A Ride
B6 Deep Purple Kentucky Woman
B7 Buffy Sainte-Marie The Circle Game

C1 The Real Don Steele Boss Radio
C2 Simon & Garfunkel Mrs. Robinson
C3 Unknown Artist Numero Uno Advertisement
C4 Los Bravos Bring A Little Lovin'
C5 Unknown Artist Suddenly / Heaven Sent Advertisement
C6 Unknown Artist Vagabond High School Reunion
C7 Unknown Artist KHJ Los Angeles Weather Report
C8 Unknown Artist The Illustrated Man Advertisement / Ready For Action
C9 Dee Clark Hey Little Girl
C10 Unknown Artist Summer Blonde Advertisement
C11 Neil Diamond Brother Love's Traveling Salvation Show
D1 Robert Corff Don't Chase Me Around
D2 Paul Revere & The Raiders Mr. Sun, Mr. Moon
D3 Jose Feliciano California Dreamin'
D4 I Cantori Moderni di Alessandroni Dynamite Jim
D5 Vanilla Fudge You Keep Me Hangin' On (Quentin Tarantino Edit)
D6 Maurice Jarre Miss Lilly Langtry
D7 Unknown Artist KHJ Batman Promotion
D8 Unknown Artist Batman Theme
Cena a dostupnost
Kód zboží

V29106
Dostupnost

Skladem 3 ks
Cena pro Vás

590 Kč
Cena bez DPH

487,58 Kč bez DPH
Pokud chcete lepší cenu, zaregistrujte se.